A Message From Lloyd Johnson
A few months back my friend Joe De Lorenzo asked me if he could look through the Archive of La Rocka!… Joe and I sat down and chatted whilst going through the Archive… "How about if I do some of these T-shirt designs in the States" Joe said… "Sure if you want Joe"… I replied… so Joe selected the first designs to produce and here they are…the same designs as worn by many British and American bands and fans in the 70s..80s and 90s…
In those days I had a motto…
"If it ain't fun it don't get done"…
– Lloyd Johnson
A Message From Joe De Lorenzo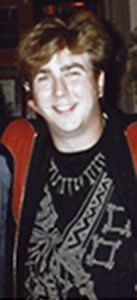 I first spotted La Rocka! T-Shirts and Leather Gear back in the early 80's. For me it was The Lords of the New Church. With all the black skull and crossbones gear looking truly baaaaddddaaaasss!
At the time you could barely find this stuff in the states and we didn't have the luxury of ordering on the interweb. Finally, I found my first voodoo t shirt in NYC! And I'm proud to say, yes, I still have it (although it did lose it's sleeves over the years as a lot of everyone's shirts did back then) and it was actually displayed with a number of other Johnson's and La Rocka! items I'd managed to save, at The Chelsea Space Gallery Exhibition; Lloyd Johnson, The Modern Outfitter, held in the Winter of 2012.
Lloyd and I have since become friends over the years and on a recent trip to the UK I broached the subject of adding a chapter to the La Rocka! Story. And Mr. Johnson was amenable to the idea (as you've read in his message).
I intend to bring you many, classic La Rocka! designs along with some newer designs and items from various artists and designers.
So it is with this, that I bring you La Rocka! USA…
– Joe De Lorenzo